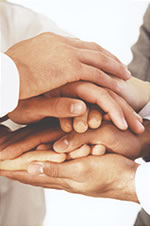 "A vision without action is just a dream;
an action without vision just passes time;
a vision with an action changes the world."
--Nelson Mandela
INTAB Services Inc. is a rapidly growing company dedicated to helping you put your vision into action and helping you to change your world.
We will help you:
learn a new language or just some of the basics;
communicate successfully in another language;
acquire or develop new business or computer systems;
train in new methodologies or technologies;
assess your training needs for yourself or your staff;
with needs assessments in general business or Biomedical Technologies;
contact potential business opportunities in other countries.
INTAB is here for you. INTAB makes you successful. INTAB prepares you to
move into the future.
We become your partner - your success is our success. We are unbiased and provide you with the best solution to your problem. Move into the future with help from INTAB Services Inc.